SQCT Gift Card Draw
Complete your Fall Course Questionnaires for a Chance to Win 1 of 5 $500 Amazon.ca Gift Cards!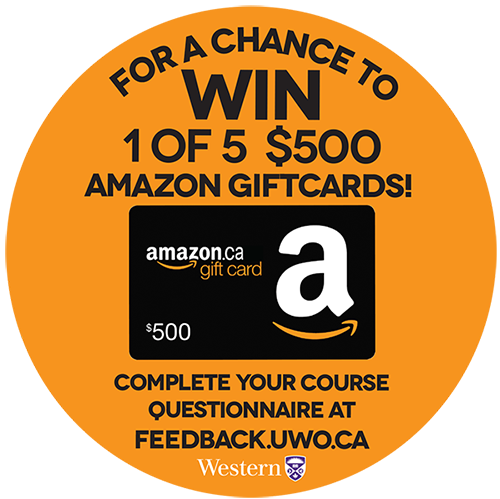 Western Students who complete at least one Student Questionnaire of Courses and Teaching (SQCT) using the Your Feedback online system for a Fall 2017 course will be entered in a random prize draw for one of five $500 Amazon.ca gift cards.

Each questionnaire completed using the Your Feedback online system will count as one entry into the draw. Only SQCTs completed using the Your Feedback online system for Fall 2017 courses will count as entries toward the draw. The maximum number of prizes that can be won by an individual student is one. Amazon.ca gift cards must be used at Amazon.ca and cannot be used at Amazon.com or other Amazon websites. The draw will be held after the last summer sesion in August. Winners' names will be posted to the yourfeedback.uwo.ca website.


We asked our 5 previous winners of the $500 Amazon.ca giftcard to answer a few questions about the feedback process, and this is some of what they have to say:
"It was an easy way to share my opinions of my year at Western. Without giving feedback no one would know how students feel. With this feedback it allows for change that can improve the Western experience for all students."
"I do like this [Feedback system] because it allows us to provide a detailed feedback and mention issues or things we like about each class/professor. Everyone has a different experience with every course so it is important to provide the feedback that is necessary."
"Most of my courses at Western are in huge numbers and often the profs don't know if the things in class help or not and providing this constructive feedback definitely helps them do better the following year."
"I think all the professors in Biochem are fantastic! They are always eager to help and provide guidance!"
"I think [the Feedback system] is very convenient as you can have access to it anytime and it makes it easier to provide written feedback."
"Having taught as a TA and in discussions with professors I know that course feedback is important both for the improvement of the course and for lecturers to improve in how they teach a course."
"It was easy to use!"
"Having the opportunity to provide feedback allows students an avenue to which they can actively participate in the determination of the availability of courses for their respective programs and, to some extent, the appointment, or the request to return, of some professors to those courses. Giving feedback allows concerns / comments to be heard and addressed by the people who have the tools and ability to implement change."